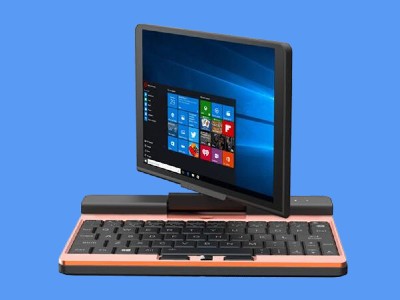 Just a month after the release of the One Mix 1S ​​+ portable laptop , One Netbook began work on yet another novelty in the line of branded compact Windows devices. The manufacturer has already published the first official images of the unusual device and talked about its key features.
According to the developers, the laptop with the original design is designed primarily for representatives of the IT industry and engineers – on its case there are classic RS-232 and Ethernet connectors that are useful when debugging specific equipment. The list of model interfaces also includes two USB Type-A ports, one USB Type-C, micro-HDMI and a microSD card slot.
The 7-inch touchscreen display of the laptop, supporting work with the stylus (up to 2048 degrees of depression), is equipped with a special hinge. You can turn it in the right direction without moving the device, or turn it into a tablet that does not take up much space. Despite the miniature dimensions, the gadget received a full-size keyboard without a digital block.
Detailed specifications and the date of the announcement of the new items will be announced by the manufacturer later.
Source: liliputing.com