A newly designed dish drying rack with built-in utensil caddy can not only be used to dry kitchen utensils like washed bowls, pot, fry pans, tableware, cookware, etc., but also can be used to expand the sink space when washing, and even can be used as a tripod. The unique slot design allows for the placement of slender kitchen utensils and appliances to prevent them from falling off.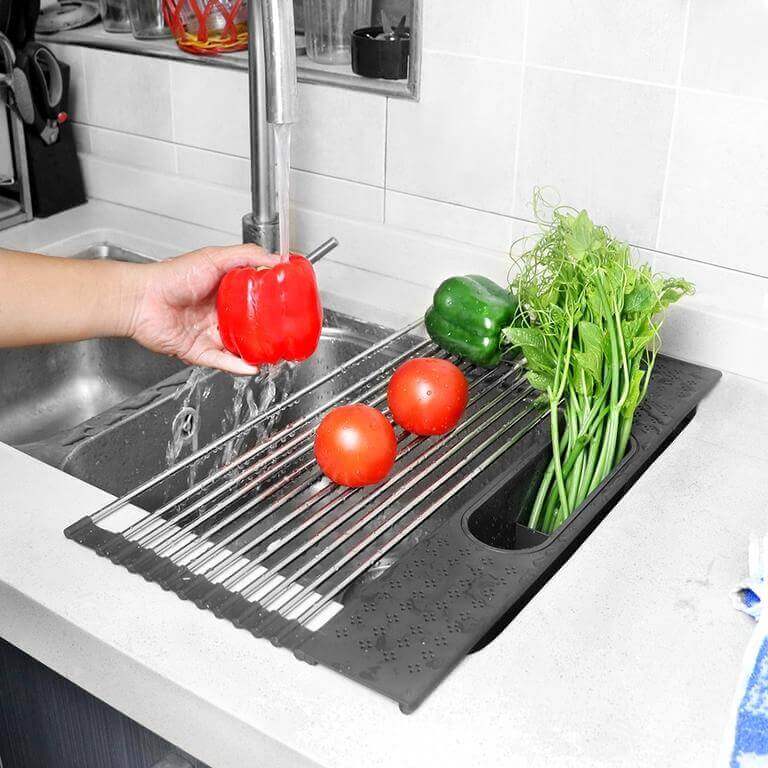 MUST HAVE MULTIPURPOSE kitchen gadget which assists you to organize and your kitchen space in particular sink zone spacing and makes your dishwashing process easier SILICONE COVERED METAL RODS provides over the sink foldable dish drying rack non-slip, tactilely pleasant and more flexible WIDE USE: draining, straining and air-drying any washable kitchenware, glassware, tableware, flatware, cookware, bakeware, vegetables, fruit, containers, washing tools can hold the weight of heavy fry pans, ceramic baking pan, and heavy pots. Adjustable rollable over sink dish drying rack strainer can be used as a cutting board holder to let you cut and wash at the same time over your sink SPECIFICATIONS Size: 20.5″ x 13.1″ Weight: 2.3 Pounds Resistance: 400 F° Material: Silicone Wrapped Steel Color: Warm Gray

【LARGE SIZE & SPACE-SAVING】 The large 20″ × 11″ size folding roll-up dish drying rack is suitable for most standard sinks. we still recommend that you measure the size of the sink to make sure it is usable before purchasing. When you're done using sink drying rack stainless steel, you can roll it up and go in a drawer quickly when not in use. Works great and keeps the kitchen sink area looking neat. It is the best dish drainer for the kitchen counter.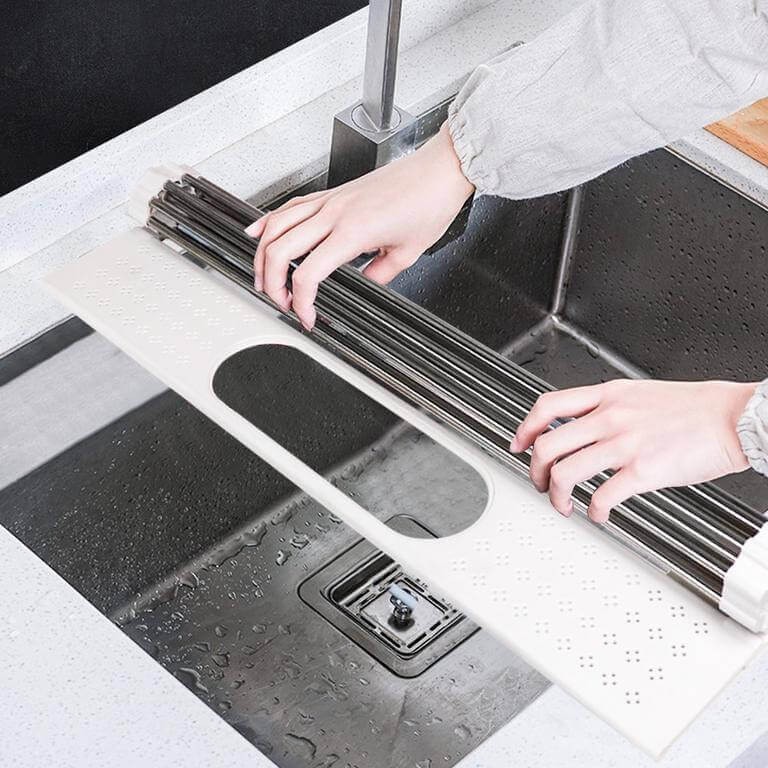 【PREMIUM QUALITY MATERIAL】Made of SUS 304 tough stainless steel, the sink dish drying rack is very solid and sturdy and it can resist constant use and rust for years. In terms of construction, the anti-slippery rubbery grips on either end are firmly attached to the stainless steel pipes. The service life of the product is longer than that of ordinary materials.