Digital photo frames are responsible for storing different photos and that you can see as a presentation. Forget seeing the same photo every day. Keep your family memories present with the Best Digital Photo Frames
The advantage of having digital photo frames is that you will no longer have to pierce your wall, you avoid printing poor quality photos, and that you can choose from your cell phone which photo you want in this digital box.
There are digital photographic frames of different prices and that have different functions, some come with a slot for a micro SD, and others you only need a USB. These are some options of digital photo frames that you always have your best family memories in mind.
Keep your family memories present with the Best Digital Photo Frames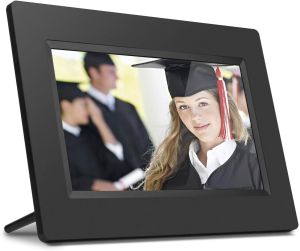 This digital photo frame has a size of 7 inches and is compatible with microSD cards and a USB, so you can put the best photos of the family. It is not a touch screen, but it has a very simple menu in which you can see the photos in a slide show and with different transition modes.
Although you can place photos vertically and horizontally, photos in landscape mode will certainly look better. On the back are the buttons for you to modify and change the photos in seconds.
Buy this 7-inch digital photo frame here 
An advantage of this digital photographic box is that you do not need to have the USB or the micro SD attached to the computer to present your photos, as it can be stored in the box. In addition, it has a motion sensor, which if there is no one in the room will be off, but as soon as it detects movement it will be playing your best photos.
It has a remote control so you can change or add some music to those memories.
Buy this photo and video frame here 
This is a digital photo frame that is a little more complete, it has capacity for video, photos and which has a calendar, you can add background music and even use it as an alarm clock. It can support 32GB microSD. You can decide the interval for the presentation of the photos or if you want only a static photo to remain.
It is very simple to use that you can even give to your partner, grandparents to your best friend so that those memories are always present.