The age from 13 to 17 is called transitional for a reason. During this period, children are rapidly changing – both externally and in terms of psychology, which means that the interior surrounding them must meet new needs. When creating a room design for a teenager, it is important to take into account the individual traits, interests, and hobbies of a growing child. The ideas and photos collected on our website will help you choose an interesting option for decorating a room and equip it with maximum comfort.
Features of the teenage room
A year or two after the child graduates from elementary school, almost all parents are faced with the problem of re-equipping the children's room in a more adult format. As a rule, there is a need to replace the furniture, and the decoration often needs to be updated. All this requires a lot of attention and resources, but if all the details are thought out in advance, a stylish design will delight the young owner or owner until adulthood, or even longer.
Ergonomics of furniture
When choosing a new bed, desk and computer desk for a teenager's room, you should pay attention to transforming models. The ability to adjust the height, width or length will not only be useful in terms of the convenience and health of a teenager, but will also significantly save the family budget. As for cabinets and shelves, they should have a good supply of free space for future replenishment of the wardrobe and storage of all necessary things.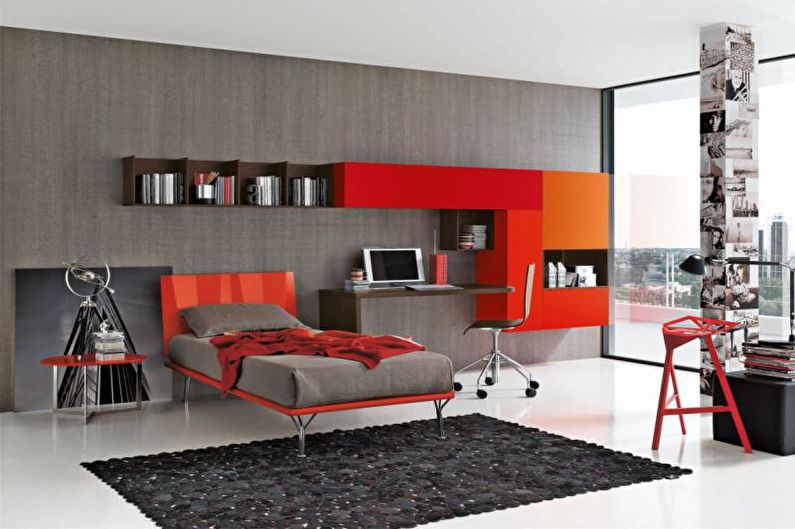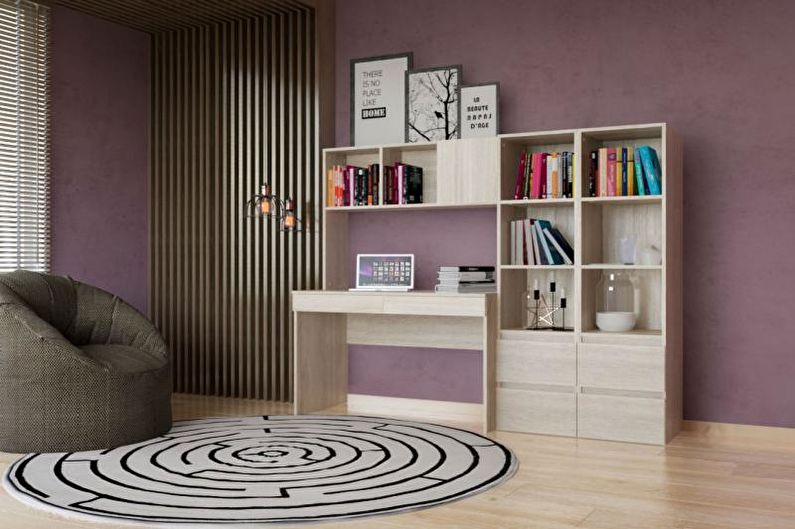 Neutral finish
In adolescence, the tastes and preferences of children often change. To adapt the interior to new hobbies, it is advisable to choose a neutral design, in which there is always a place for noticeable accents. For example, for favorite pictures, photographs or posters, you can take one wall or niche – so the teenager will have a place for self-expression, and the rest of the surfaces will serve as a discreet background for a longer time.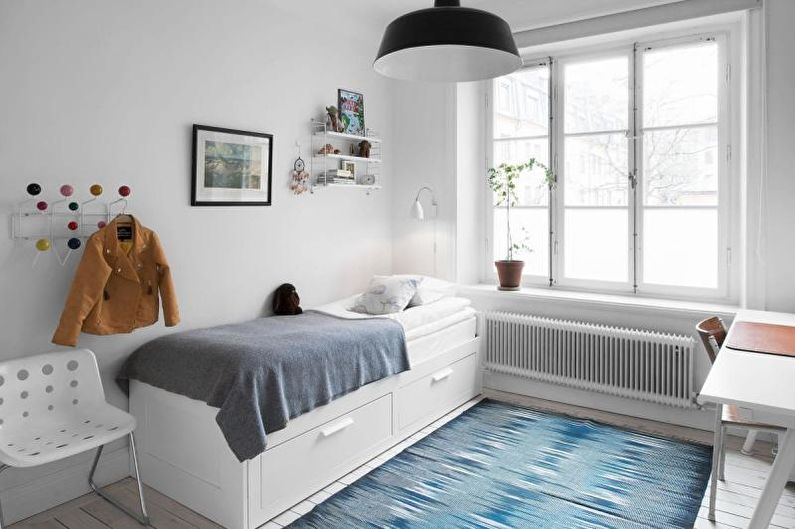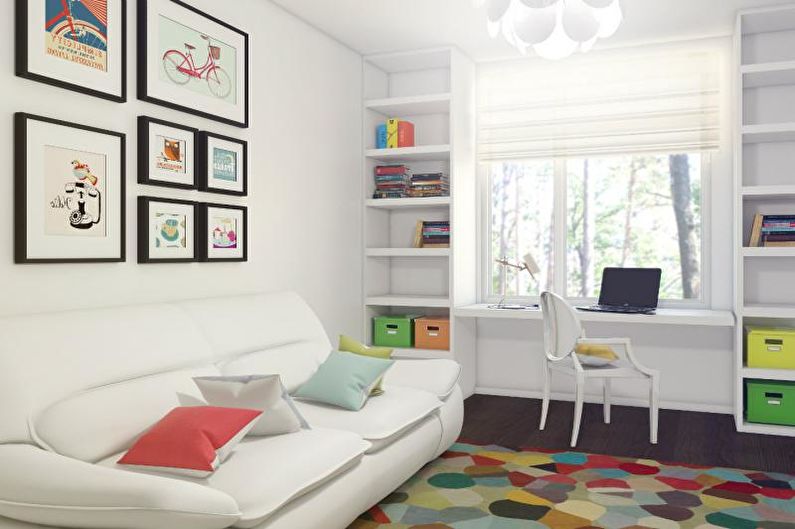 Influence of colors
Ambient shades have a great influence on the mental and physical state of adolescents – they are especially sensitive to aggressive combinations, which can often be observed in various subcultures. The dominant color in the underground youth movements is black, sometimes interspersed with red, hot pink, and yellow. Making a room in such tones can cause depression, outbursts of irritation, and sleep disturbances. Gloomy and overly bright colors are best replaced with calmer tones. Light gray, beige, blue, green, brown are suitable as a base.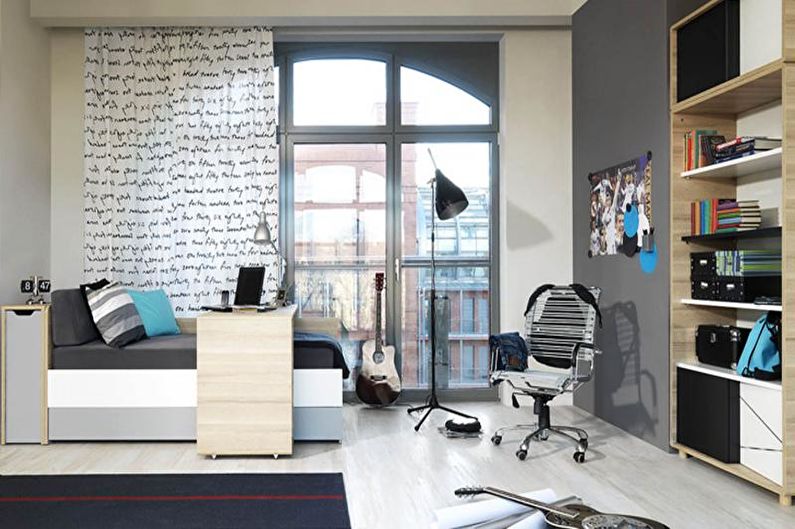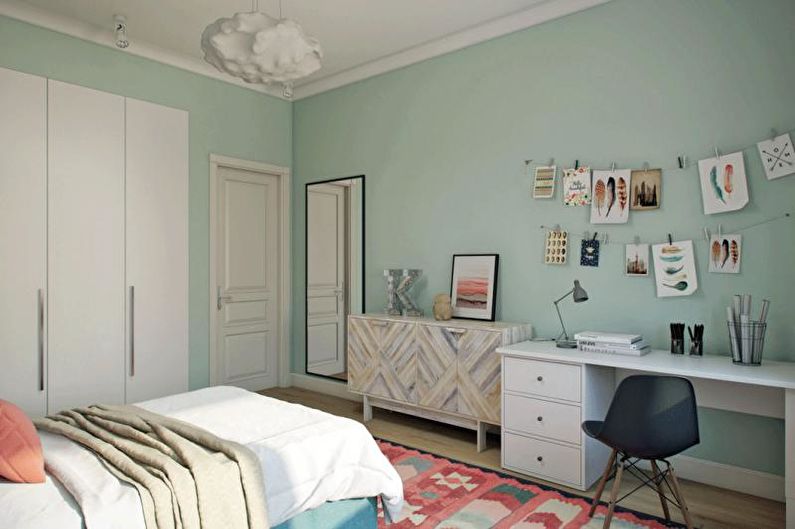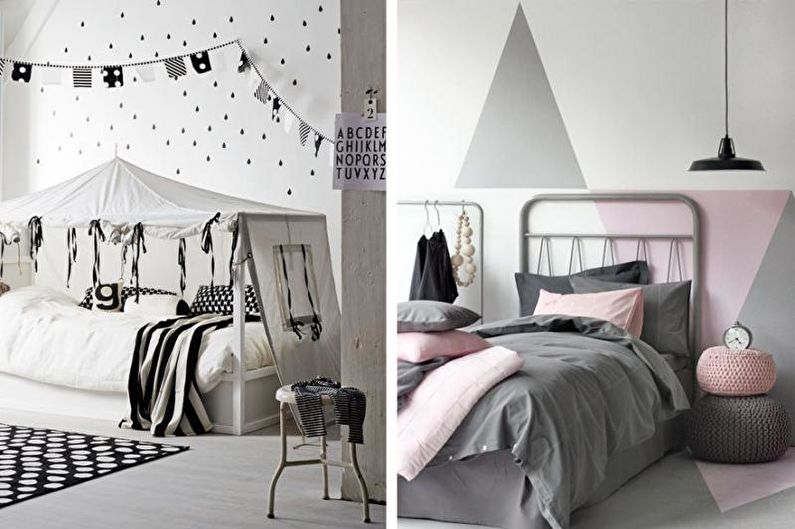 Room design for a teenage girl
The traditional design theme for young ladies is spring floral motifs. All kinds of hearts, butterflies, cats are suitable for girls who, even in the middle classes, retain childish spontaneity and serenity. For older schoolgirls, you can choose a design in the style of your favorite book, focus on the owner's hobby – music, needlework, drawing or dancing.
The color palette in the interior of the girl's room should match the character of the owner, filling the space with lightness and comfort. Delicate pastel and sunny colors are appropriate: white, pink, light green, yellow, orange, turquoise, lilac. Natural combinations and different saturation shades of the same color look especially harmonious.
The style of a girl's room can be both restrained (modern minimalism) and romantic – here you should pay attention to Provence, shabby chic, light classics. If a young lady is fond of the culture of a country, you can borrow from there the characteristic features of the situation, ethnic decor or symbols.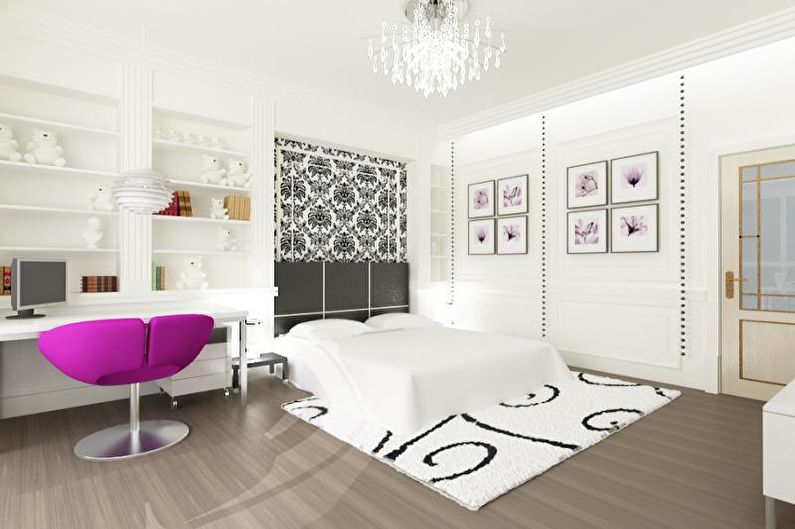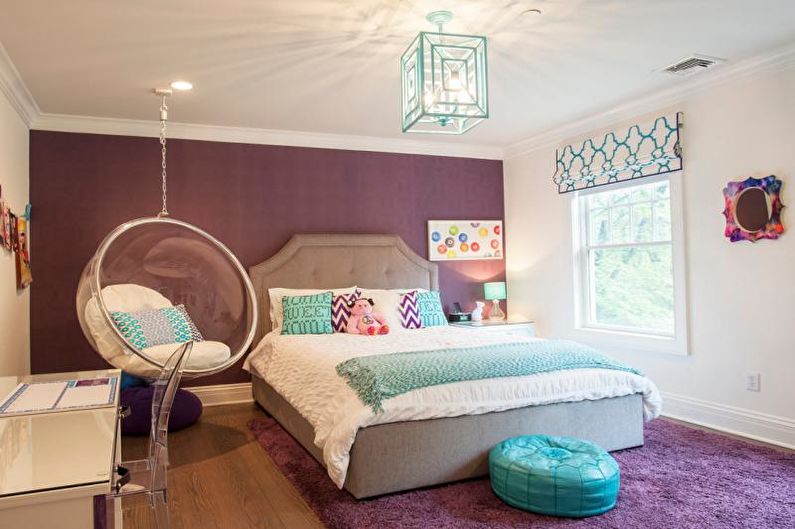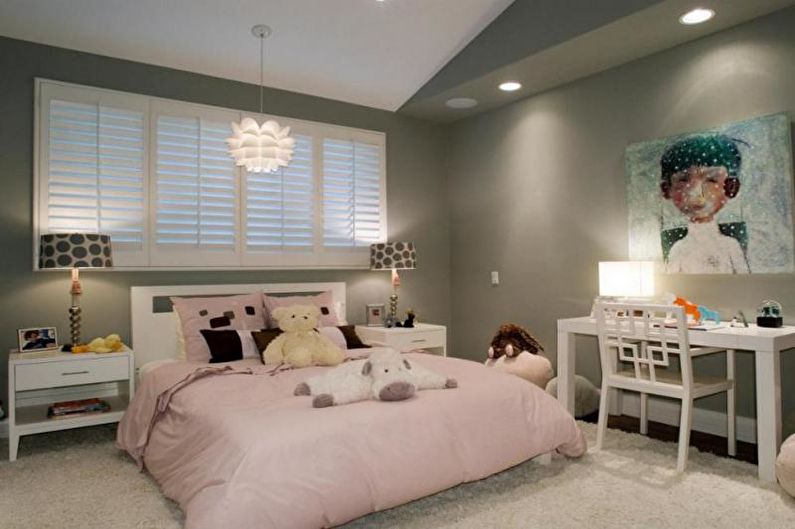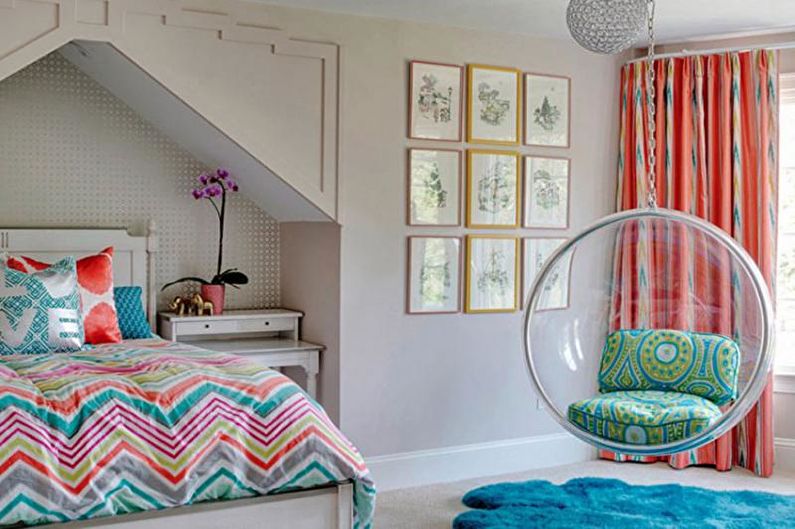 Teenage Boy Room Design
When designing a room for a teenage boy, first of all, it is necessary to pay attention to practicality and only then to aesthetics. Spacious wardrobes, organizers and drawers will teach the child to put things in their places. To facilitate cleaning, you should avoid open shelves and unnecessary decor, that is, items that do not carry a functional load. A good decoration of the interior will be awards: cups, figurines, certificates received by the boy for personal achievements in studies, sports or other areas of life. The attributes of success left in sight will increase the young man's self-esteem and inspire him to new victories.
The design of the room should be created taking into account the individual characteristics of the growing owner. Someone likes adventure style, someone is fond of rock music, cars, technology, history or astronomy. Many guys are associated with some kind of sport – they play football, basketball, do martial arts, athletics, etc. All this can be reflected in the interior using thematic prints, badges and decorative elements.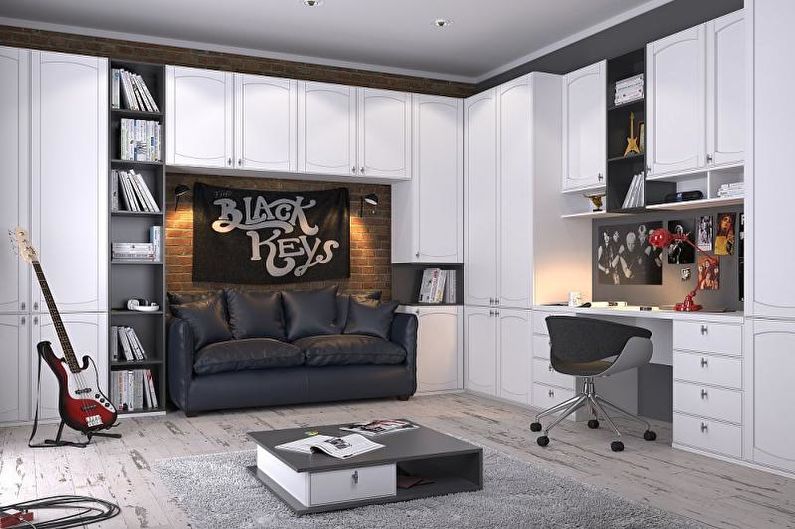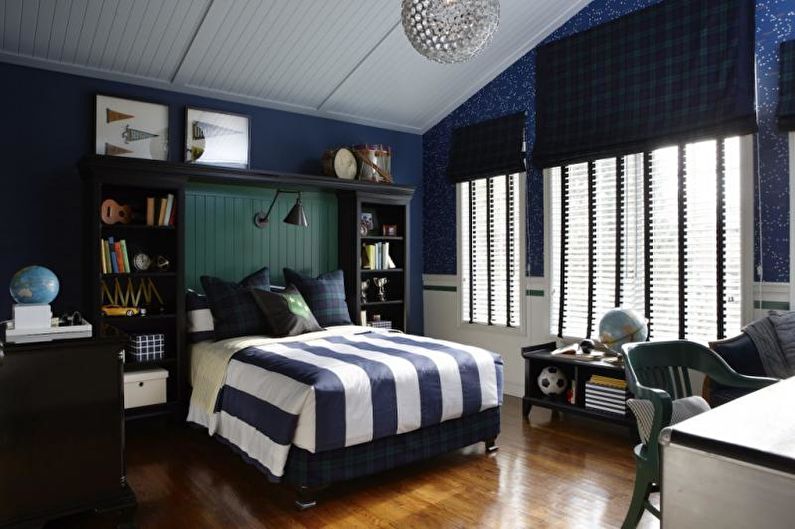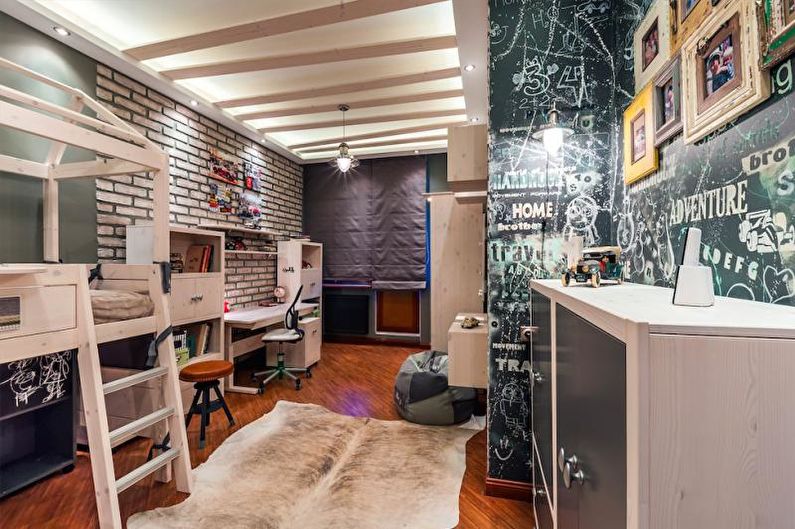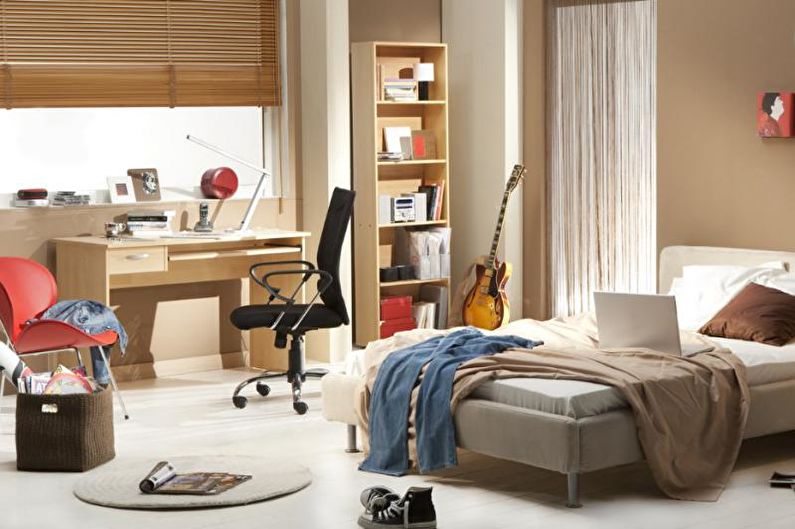 Zoning a room for two children
When children reach puberty, it becomes necessary to settle them in different rooms, but sometimes the small area of ​​\u200b\u200bthe apartment does not allow this. In this case, zoning will help to equip each child with their own space.
Partitions. Almost all teens need their own private "nooks" to be able to get away with. This is especially important for children of different sexes. To divide one room into two parts, partitions should be used, but in no case should one be left without natural light. Thick curtains, plywood, wooden, plasterboard walls, tall cabinets and shelving are suitable as a screen.
Bunk furniture is usually used in small nurseries, but you can find many interesting options for teenagers. Particularly convenient are the structures, on the first floor of which there is a working area, and on the second – a bedroom. The side walls are reserved for storing things. Such sets are more individual than simple bunk beds, as they remain in the sole possession of the child.
The podium is another good technique for zoning a room for two same-sex children. Elevation above the floor level allows you to fill the vertical space more efficiently, and pull-out beds or drawers for storing things can be installed under the "stage".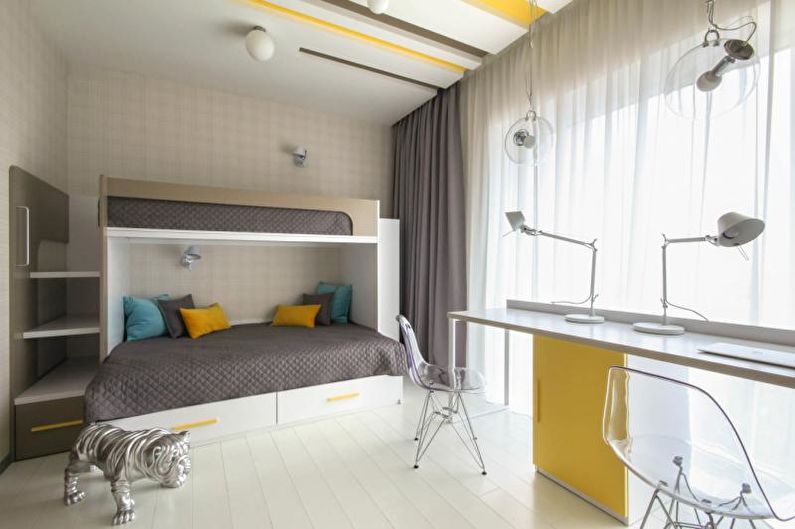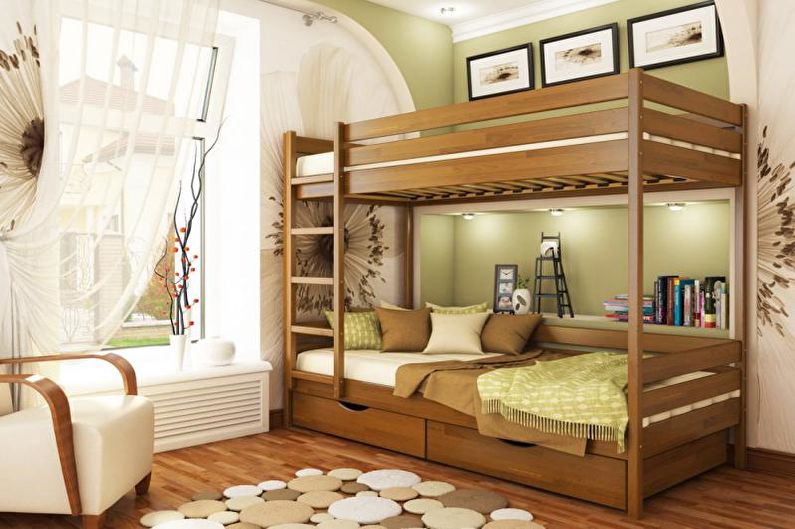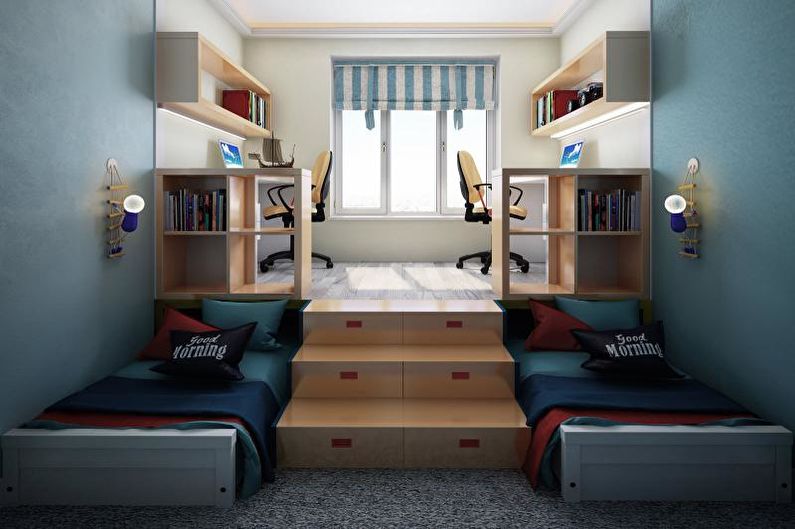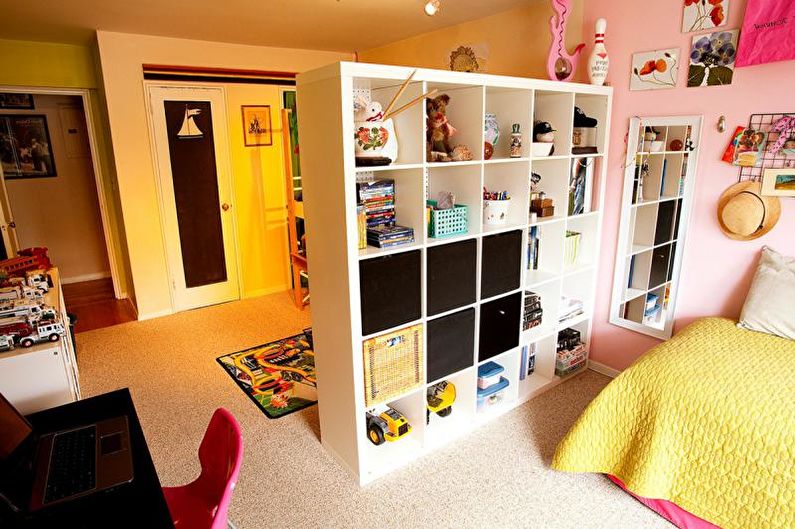 Teen room design – photo
In the photo gallery on our website you will find many creative options for designing a room for a teenager. But it is desirable to decide on the choice together with the future owner or owner. During the transition period, it is important for young people to feel that their opinion is listened to and perceived on an equal footing with adults.
By taking part in the design of their own room, a teenager will learn to create a comfortable environment, will appreciate order more and will be able to enjoy an interior that fully meets his tastes.